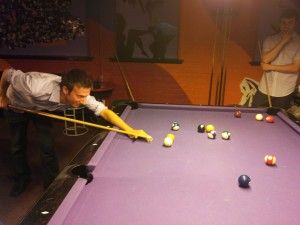 Simon & Ian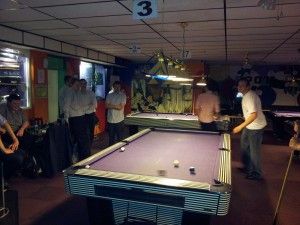 Tense semi-final as spectators look on, enthralled
The inaugural Scott Logic pool competition took place last night, kicking off with 12 brave entrants comprising 6 developers, 5 new graduates and our intern Dean. It was a marathon session in a league format; a total of 66 games played across 4 tables in 3 hours.
The snooker club regulars had a a clear advantage, with the lunchtime practice sessions translating into a number of convincing wins. The grads unfortunately were a little out of practice, having spent not enough time in the pub in recent years. This of course is with the exception of Steven who performed respectably by winning 6 of his 11 games. This did, however, include a forfeit from Ross who was forced to leave during the match when his mum phoned and demanded he come home or he'd be grounded.
Chris was in fine form on the evening, and a couple of dubious wins meant that he managed to brush off all opposition and remain unbeaten. Despite bringing his fancy personalised cue, even Luke couldn't stop Chris from marching to victory after potting the black but spectacularly also potting the white to lose the game.
Below is the ranking from the event. Unfortunately it's approximated since we left the score sheet behind in our rush to get to Lau's Buffet.
Chris (11)
Adrian (9)
Luke (9)
Johnny (8)
Simon W (7)
Steven (6)
Ian (4)
Dean (4)
Rob (3)
Sam (3)
Simon K (2)
Ross (0)
Thinking of joining us?
If you enjoyed this blog post and are interested in working with smart Developers on challenging software projects,
check out our current vacancies
.