Last Thursday night saw a tense battle for the podium at the inaugural Scott Logic Newcastle grand prix. The race was held south of the river at Karting North East in Sunderland, but most people didn't let that, or the afternoon of torrential rain put them off!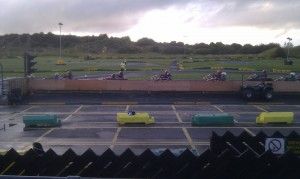 The race started with a 15 minute practise session on a soaking wet track. The first few laps were a bit hairy with karts spinning out all over the track as the slippery tarmac quickly earned the driver's respect. Everyone then got down to business putting in some fast laps, resulting in the following 1, 2, 3 on the start line -
Robat Williams
Andrew Bain
Chris Price
A sneaky manoeuvre on the start line saw Chris take the lead into the first corner, a lead which lasted all the way to the third corner. That corner saw a lot of the field take a spin, with Simon Watson gaining a special mention for dropping 16 places.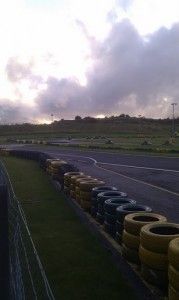 Throughout the 30 minute race, the track continued to dry out and everyone was able to get ever closer to the racing line, pushing down the lap times 20% across the board. The battle between first and second place was hard fought, with the drivers only ever swapping places and neither dropping below second place. The final positions were as follows -
Chris Price
Robat Williams +1.832s
Simon Watson +59.621s
Jonathan Cardy +61.802s
Andrew Kurowski + 61.994s
(All other drivers were at least a lap behind)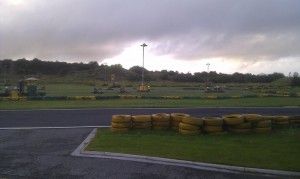 The fastest lap of the race went to Simon Watson at 74.060s, which helped in his monumental climb from 17th place back to 3rd in time for the chequered flag. The slowest average of the race goes to Luke Page at 104.304s, who also gets a special mention for not actually finishing the race. And finally Joel Smith gets a mention for pulling in to the pits during the race for sandwiches, thereby screwing up the average and best lap graphs for everyone.
Good fun was had by all and was in no way influenced by the post-race trip to the pub. We hope this race is just the start of this year's season!