Over the weekend I mentioned on Twitter that I had created a Metro-style PowerPoint template. There were a few requests to share, so hence this blog post. Scroll to the bottom to download the PowerPoint file.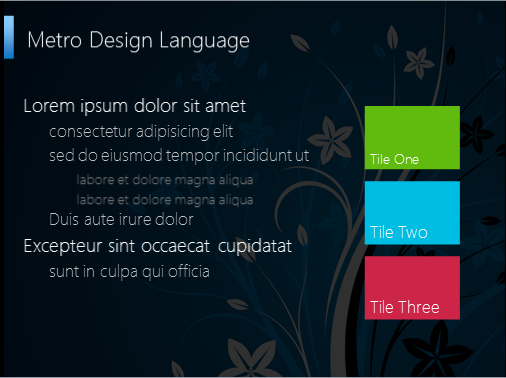 So why create a Metro-style PowerPoint presentation? A couple of reasons, firstly, the templates that come with PowerPoint are absolutely awful!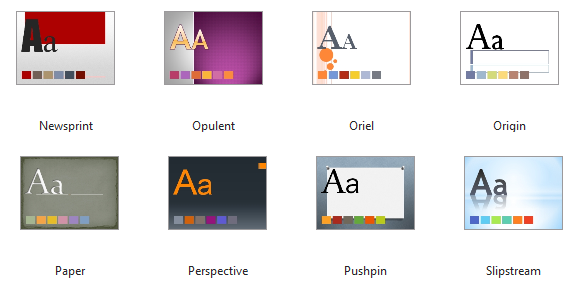 They look very dated (to put it politely). Secondly, with the Metro Design Language, which was introduced with Windows Phone 7, Microsoft have come up with something surprisingly stylish. Metro is about clarity, readability, simplicity - concepts that map very well to presentations.
The 'classic' Metro look, which I have tried to re-produce with this template, includes highly legible san-serif fonts (from the Segoe family), a lack of chrome (i.e. shadows, gradient) and fluid motions. Many metro applications do include background imagery to add 'warmth', as I have done here also.
I have created a template with a master and a number of layouts. Each layout includes a number of sequenced animations, mimicking the 'fast and fluid' Metro interface: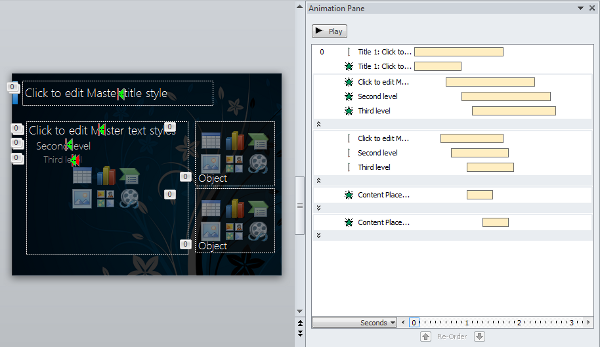 PowerPoint can be used to create some rather neat sequenced animations, if you ignore the rather garish defaults.
To get a better feel for this template, have a look at it in motion (the quality here is rather poor, I haven't managed to find a screen capture tool that works well for subtle colours):
If you want to use this template, you might want to change the background image. You can do this via the 'slide master view'. The background I included is one I found on the free stock imagery site stock.xcnhg, by the user fangol. There are numerous other free images on that site. Please remember to attribute your usage of free stock images.
You might also find that you need to add new layouts based on your content. Again, this is easy to do via the master view.
Anyhow, here is the template, enjoy: MetroStyle.pptx
NOTE: Until I get the mime-types sorted out you might have to right click and select "save as" to save the above PowerPoint file.
Regards, Colin E.