We were proud to be a sponsor of November's Women of Silicon Roundabout event at ExCeL London. It was a real delight to see so many women technologists together in one place, sharing insights, supporting each other's careers, and providing inspiration and motivation.
We're a Most Loved Workplace®, so when people came to meet us at the Scott Logic stand, we took the opportunity to ask them "What would make somewhere a most loved workplace for you?" We also asked a follow-up question, "What are your top three priorities when choosing an employer?" We received over 200 responses and the results were really interesting. I'll provide a summary here and some commentary below.
The results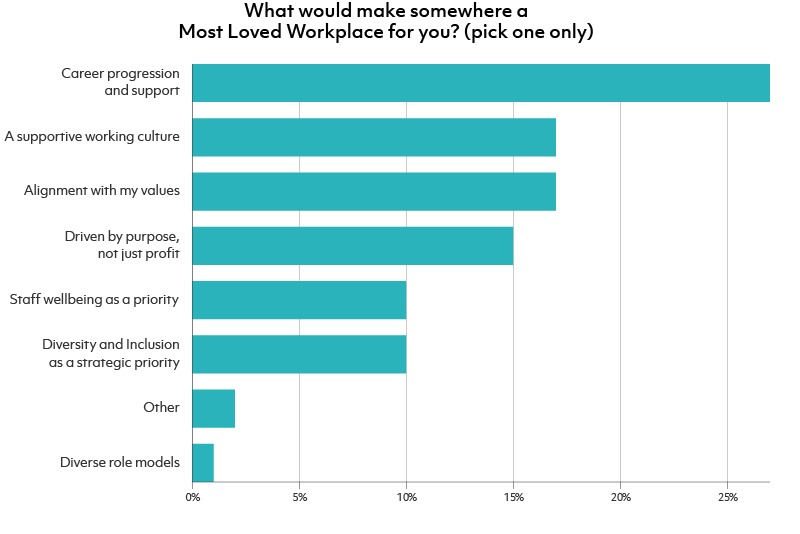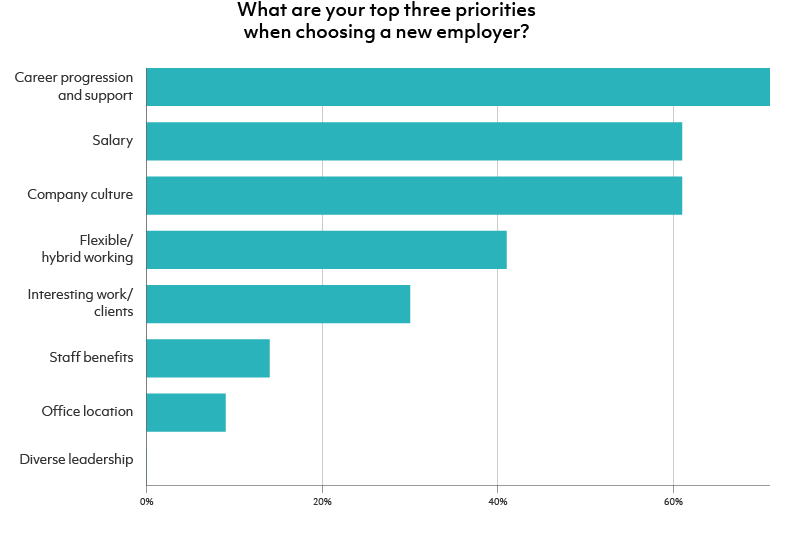 Career progression and support
In response to both questions, the thing that our respondents value most in an employer is career progression and support. This is understandable from the perspectives of individual motivation and ambition – but there's an added significance to this result in an industry within which it's historically been challenging for women to advance to senior positions.
One of the things I appreciate about Scott Logic is that there are clear progression routes for our consultants, with transparent guidance on the skills and behaviours you require to progress to the next level. These career frameworks provide the basis of our annual performance review and promotion process. When training needs are identified, all staff benefit from an Individual Development Budget of £1,000 and two training days a year.
And there is ample opportunity to learn on the job; 30% of our respondents prioritise interesting work and clients, and we have those in abundance. We're technology-agnostic in the sense that we recommend to our clients whatever technology will best suit their requirements, so there are always opportunities to upskill and expand your experience.
Salary
Even during a cost-of-living crisis, salary came in as a secondary priority behind the importance of career progression. That said, it's still clearly very important. At Scott Logic, we pay competitively – and to ensure this always remains the case, we benchmark our rates of compensation using aggregate market data provided by a global leader in the space, giving us independent, third-party validation. We seek to employ the smartest technologists in the UK and are committed to ensuring that our compensation rates continue to attract the brightest and best.
Supportive working culture
Finding an employer with a supportive and nurturing culture was very important to our respondents. In an industry with such high demand for talented people, employees can vote with their feet if they find themselves in an organisation which fails to cultivate a people-focused culture.
One of the things I personally value about Scott Logic is the company's commitment to the long-term growth and development of our community. We hire permanent employees and want them to build long-term careers here. For this reason, the whole culture of Scott Logic is designed to foster your development. We nurture a committed community of talented people happy to share their knowledge; a culture in which you can grow, flourish and feel supported in your career and your life beyond work. Watch this video to hear some of our consultants describe what this means to them:
40% of respondents prioritised hybrid working to afford them the flexibility of balancing work and their home life. Scott Logic's approach to hybrid working provides precisely this flexibility and demonstrates the trust we have in our consultants. It gives our consultants the potential to be productive from home alongside the benefits of working in shared team environments and spending time with their clients.
Alignment with values, and purpose-driven
There's a significant overlap between looking for a company that's aligned with your values and seeking one which is purpose-driven; taken in combination, a third of respondents indicated that this is what they would look for in a most-loved workplace. As Gartner research shows, the pandemic caused people to reflect on what they value in their work life and home life, and something that people really value is purpose.
At Scott Logic, our purpose is to create opportunity and sustainable prosperity through technical innovation – and this purpose imbues our mission which has three pillars: client, economic and social. The social mission recognises the central role we play in society, and that's important to me; I don't want to work somewhere that's only focused on profit.
Our social mission drives us to safeguard the future of the natural environment and to initiate innovative ways to create opportunity in our communities and society at large. You can see examples of this in our Net Zero commitment, our support for Ukraine, and the charity we helped to found – the Altitude Foundation – which enables young people in North East England with untapped potential to pursue their passion for technology, get their first job, and inspire others to do the same.
And our values of Passion, Respect, Excellence, Collaboration and Professionalism underpin everything that we do – individually and collectively – to deliver on our purpose and mission.
Staff wellbeing front of mind
The pandemic placed significant stress on people's mental wellbeing as well as their physical wellbeing. In recent Tech Nation research, 41% of respondents said they now pay more attention to their mental wellbeing, compared to before the pandemic. So it's no surprise that there was a group of respondents who chose care for people's wellbeing as the defining attribute of a most loved workplace.
As companies grow, there can be a tendency to lose the people focus they started out with. That was the motivation behind Scott Logic's People Promise – a reciprocal promise between the business and our people outlining some concrete, straightforward principles about how we will operate as a company – keeping us true to our core values as we grow. The principles include 'We don't expect our people to work overtime' and 'We don't prioritise delivery above the wellbeing of our people', enshrining staff wellbeing at the core of our business. Our benefits include private medical cover, an employee assistance programme and gym membership; and initiatives like our Mental Health First Aiders programme foster a vigilant culture of mutual support.
Diversity and Inclusion is a strategic priority
It's well known that women are still significantly underrepresented in the UK tech sector; and while the proportion of people from ethnic minorities in the tech sector is marginally higher than the wider economy, it's still not representative of the UK as a whole. At Scott Logic, it's a strategic priority to systematically enable a diverse and inclusive culture across the organisation.
Our recent focus has been on addressing the underrepresentation of women in our workforce, and the results have been promising. Women now constitute 18.4% of the organisation (an increase from 14.4%), even while the overall headcount has grown substantially. We made a number of executive and senior women hires in 2021–22, resulting in 27% of women in the organisation being in top grades, compared with 21% in the previous period. Within our Graduate Programme, 24% of consultant hires were women, compared to 11% in 2020–21.
Things are improving, but we know we still have a long way to go and more types of underrepresentation to address. That's why diversity and inclusion will remain a strategic priority for Scott Logic.
Thinking of joining us?
If anything in this blog post has resonated with you and you'd be interested in joining a Most Loved Workplace like Scott Logic, we'd love to hear from you. Take a look at our current vacancies or email applications@scottlogic.com to arrange a call.