BCSWomen Lovelace Colloquium 2018
When asked by Laurence our Head of Testing if I would like to attend the Lovelace Colloquium, I jumped at the fantastic opportunity to talk to current students about career options. During my time at university, I knew my passion lay within testing however many are unaware that testing can be a career path for them.
This was the 11th annual Lovelace Colloquium and it was being held at Sheffield University. As this was the first Lovelace colloquium attended by myself and our Technical Recruiter Matt, it was only natural to be nervous. However, very quickly my nervousness was replaced with newfound excitement at the prospect of discussing what we do at Scott Logic. Throughout the day there were a series of talks from women in computing that could be attended by all. The students that were attending the event had all entered a poster contest with prizes provided by sponsors of the event.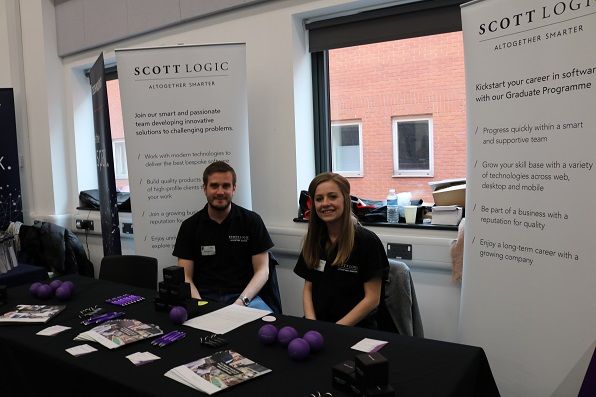 Once we set up our stall with relative speed, I took this as an opportunity to explore the other companies that were also being represented at Sheffield University. There were Google, JP Morgan, GCHQ, Bloomberg, Amazon to name a few. I left Matt at the Scott Logic Stand while I went to attend the first talk of the day. The keynote was being delivered by Tanja Lichtensteiger in St George's Church. Tanja is a Software Development Manager for Leads Beckett University.
The keynote that was delivered by Tanja was very inspiring, she discussed her journey to where she is today including the struggles that she had to face. Tanja talked passionately about how she looked past the struggles and overcame them to become the Software Development manager that she is today. We will all face struggles in our career, it's how we overcome those that matter. Instead of getting frustrated about a mistake you make, learn from them and learn to let things go. Tanja said, "If you don't fail, you don't know how to pick yourself back up again". Tanja then when on to speak about '1% progress', explaining that if we make the effort to ensure we all do 1% each day towards our career, over time we will get to where we want to be. We can't get everything done immediately - as they say, 'Rome Wasn't Built in a Day'. This got me thinking and I bought myself a journal to start doing my 1% each day towards my career, I began with – becoming a STEM ambassador. I have completed my application and I'm awaiting an introduction date. I'm looking forward to sharing my passion and experiences with the next generation of tech-heads.
Following the fantastic words from Tanja I returned to the Scott Logic stand, reinvigorated and got talking with many students. The students were interested to discover all the potential opportunities that awaited them at Scott Logic and how their transferrable skills would become a valued asset at the company. Coupled with great enthusiasm and a positive attitude, these students – and similar students wishing to apply – can achieve great things at Scott Logic, all the while ensuring that our clients receive a quality bespoke product.