As a keen amateur runner that somehow found themselves with a qualifying time to stand on the start line of the Great North Run with the Elite women, I've been reflecting on how data has influenced my journey as a runner and contributed to my improvement. Data abundance impacts many aspects of our lives from education and healthcare to navigation and recommendations of music on our streaming services. However, it's through running that I have noticed data being the biggest vehicle for change in my own life.
In the 1960s it would be unbelievable for women to even compete in a race like the Great North Run, let alone come to the start line equipped with months of data-informed training. Whilst this has had an impact on all runners, it is the amateur runner that has seen the greatest improvement in informed training.
Ron Hill (MBE) is recognised as one of the most influential runners to use a data-driven approach to running. The world-class marathon runner and commonwealth games athlete is famous for his meticulously kept training log over the years. Every day writing a detailed description of the training completed and feel, allowing him to go back and repeat training programmes that led to his best marathon times. This method has been adopted by professionals and coaches worldwide for decades, and has since moved away from written logs. But it is only with the rise of data available at an amateur level, and applications such as Strava that have allowed amateurs to have data driven training.
There are five main ways I believe that a data-driven approach is responsible for my own improvement in the sport, by providing: planning, discipline, trends, comparatives views, and custom analysis.
1. Planning
Whilst I am lucky enough to have a great coaching group at North Shields Poly, that sets out two of my sessions a week , the majority of training is self-organised. Through looking at training intensity in the run up to previous injuries I know my sweet-spot of avoiding them is a maximum of 45 miles a week. Collection of information on my weekly mileage allows for planning of routes that will fit within this injury-free region. Extensive mapping data, and heatmaps on Suunto also allows me to plot routes on new trails that have been tried and tested by other runners. A relief for someone like me who isn't great with paper maps!
2. Discipline
Whilst speed sessions are essential to increasing running fitness, as big data analysis has proven running slow is the key to running fast. Perhaps the hardest discipline of all is to really take those easy runs EASY. The real-time data feedback of pace and heart rate acts as a reminder not to get carried away when an old banger from Paramore comes on your playlist and your feet want to get carried away (for example).
3.Trends over time
Now what's the point in data collection if you don't know whether you're improving? Nothing! Without constant data collection, the way to know you are getting fitter would be to run timed races and see if there's improvement. However, waiting for a race of the same length and similar conditions to compare against can be tricky. If you are a sucker like me and have paid into Strava's premium account, you can access a measure of fitness over time. Now although not wholly accurate, it is calculated using your relative effort over time and provides an indication of whether you need to up that training!
I've found this useful to give myself a kick when I know I need to increase my training, and set my expectations for a race outcome. If my fitness has gone down over the last few months then I shouldn't be expecting a personal best.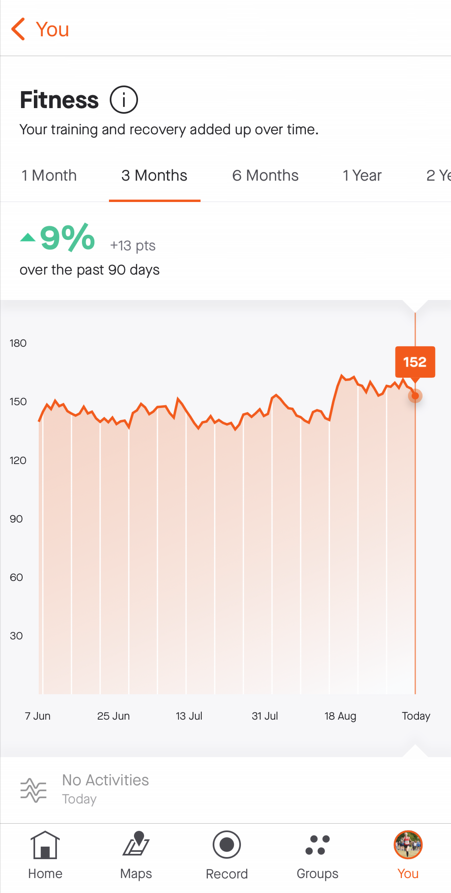 4.Scoping the competition
Perhaps one of the data collections I am most grateful for is websites that collect your race times and use them to build up a representation of where you stand comparatively to most runners in the country. Such platforms, like Power of 10 and Run Britain not only provide some fun stats but are the platforms that allow people like myself to prove qualifying times to get into Elite sections of races such as the GNR.
5.Custom analysis
As perhaps the most popular run-tracking application, Strava has an Open API where the code-savvy among us can use the data to create custom analysis. Go on - have some fun - just make sure you avoid a shout-out on Strava Wankers.
Data has been essential to my progression as a runner, however it is certainly no replacement for how you feel on race day. Even the most data-driven runners have 'off days', or get hit by matters out of control such as weather or illness. In my case in the GNR it was getting hungry at about mile ten, maybe I'll go even more data-driven and sign myself up for Super Sapiens in the future!
Now you may not have the slightest interest in running (I mean lycra isn't for everyone) but I hope this might inspire you to think about how data could positively impact your life whether it be through health apps, nutrition tracking, helping reduce energy costs or feeling safer on the walk home. Data is at our fingertips - why not reach out and grab it!